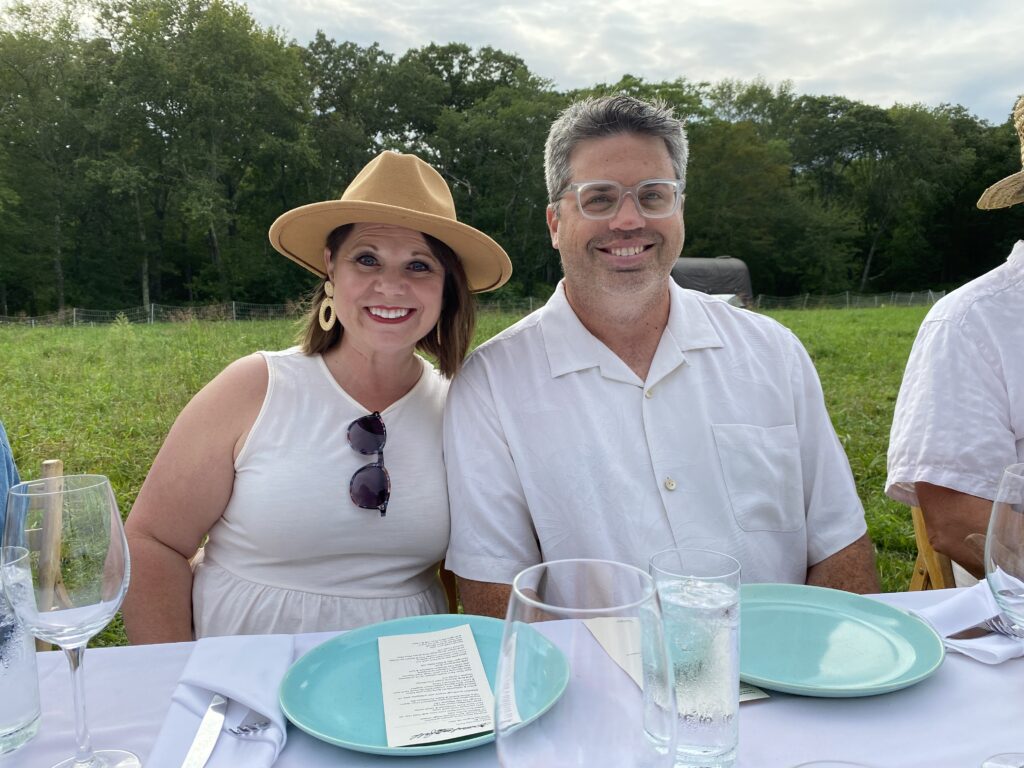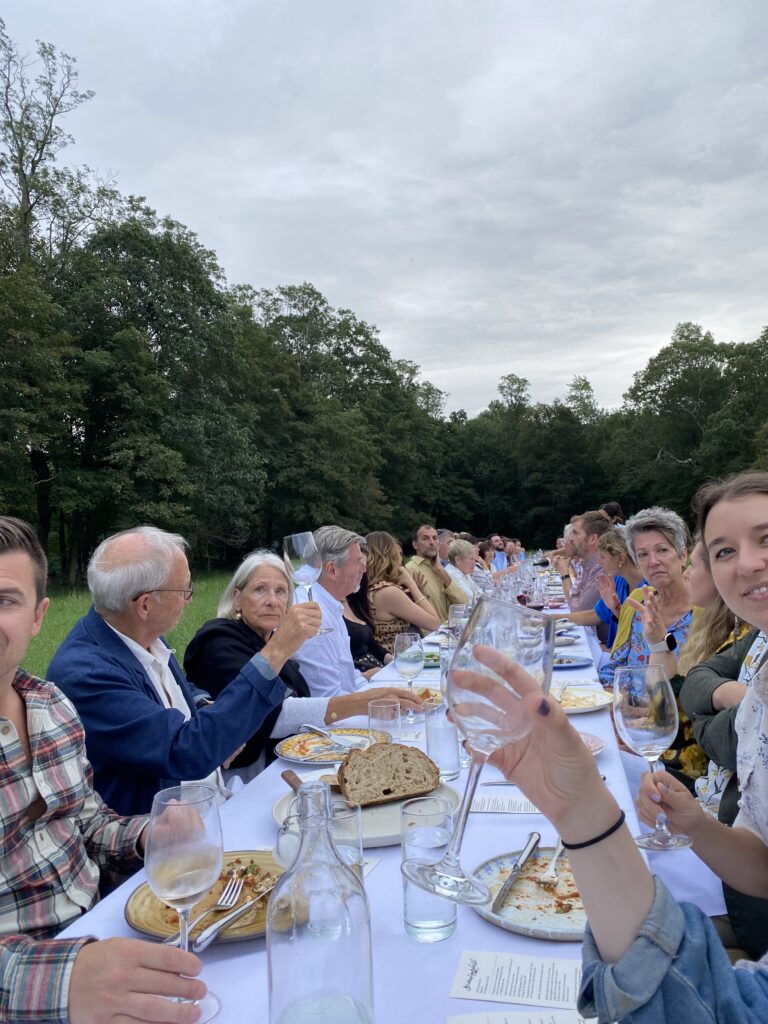 Three years ago I sat in my backyard reading a magazine glossing over the recipes and farmhouse designed kitchens when a small article in a corner of a page caught my eye. "
Outstanding in the Field
– a traveling Farm to Table Experience". I cut that article out, tucked it away in a box I keep in my bedroom for dreams – a bucket list of sorts – of places I want to see and things I want to do.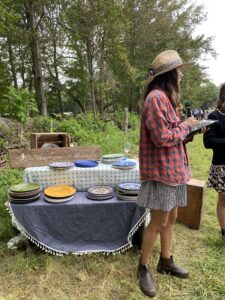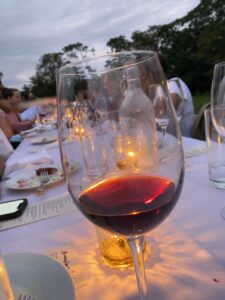 As a former event planner who always dreamed of travelling the world, I'll admit that if time could reverse about 20 years before my deep roots were buried, travelling from location to location designing farmtable events would have been a dream. Now being married to a former farm-kid I knew learning more about the hard work that goes behind the scenes to provide quality food would be an adventure all in its own.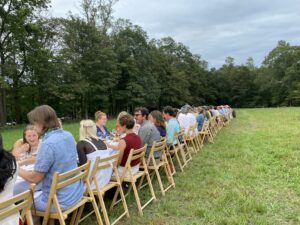 .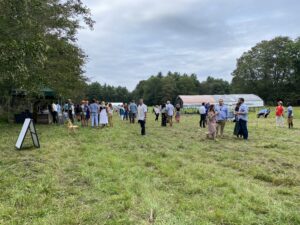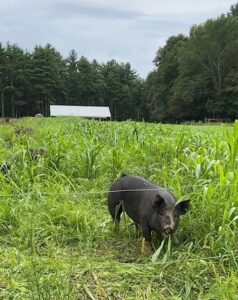 "Our roving restaurant without walls is rebuilt every morning and disappears every night. It is a momentary experience and a joyful celebration of human connection. Together we gather at one long table to share the most fundamental and universal human conversation: a meal."
Outstanding in the Field started in 1999 travelling from farm to farm setting its signature long farmtable dinner in farms, on beaches, on rooftops and even in the middle of busy metropolitan city streets. Guests meet the food-providers, tour their facility and enjoy a prepared dinner using only local ingredients prepared by local chefs who love and partner with the local farmers everyday.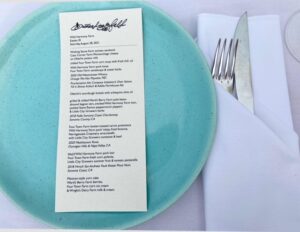 "We aim to connect diners to the origins of their food while celebrating the hardworking hands that feed us: chefs, farmers, fisherpeople, cheesemakers, vintners, brewers and many more. We're honored to have welcomed some of the world's most renowned chefs and culinary artisans to join us and cook in our field kitchen. I excitedly studied their website scrubbing through each location, different every week and spreading from coast to coast and even jumping to foreign countries. I finally chose a specific farm that raised pigs, chickens and cows because I knew Craig would love that scene. I loved New England because living there as an event planner I've always cherished the weather and scenery. Then I waited as COVID cancelled their dinners through 2020.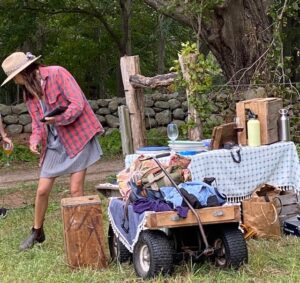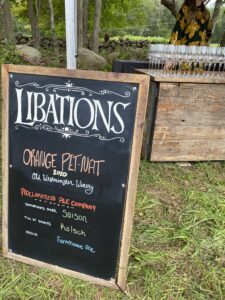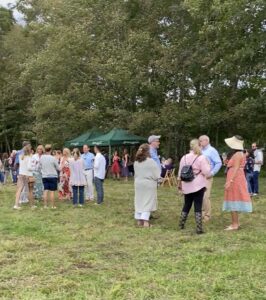 After years with that article tucked away, we finally blocked off a long weekend and flew into Boston. Dinner was set at
Wild Harmony Farm
in Exeter, Rhode Island, about an hour away. The casually whimsical event started at 3pm with a cocktail hour in the grassy field between the chicken coop and pig pen. Guests were greeted by a simple FARM TABLE chalkboard sign and an antique wooden wagon covered in a quilt as the "coat check". Brewers from
Proclamation Ale Company
and vintners from
Old Westminster Winery
in a simple tent offered samples of local ale and wine. Servers passed hors d'oeuvres
Wishing Stone Farm
tomato sandwiches,
Cato Corner Farm
Womanchego cheese on Oberlin potato rolls, chilled
Four Town Farm
corn soup with fried chili oil and Wild Harmony Farm pork lonza with Four Town Farm cantaloupe & sweet herbs. Guests wore hat, sundresses, sport coats and work boots. We carefully stepped around cow patties and loved feeling of the open air freedom farms offer. After a bit we were welcomed by the Outstanding in the Field event coordinators who explained the mission of the company and a fun glimpse into their daily lives. The younger of the two – about 20 years old had left her job with the Dept of Corrections a year ago to join this travelling culinary team. Every year from May through November their team completes over one hundred events across North America. From schlepping and shimming to serving the table, to expediting the kitchen, driving their trucks and trailers assisting the guest chefs and producers, the team truly brings the events to life. I was amazed by the idea of this nomadic life of a "lot of camping out" as she laughingly described.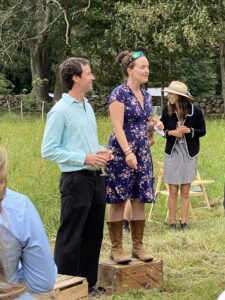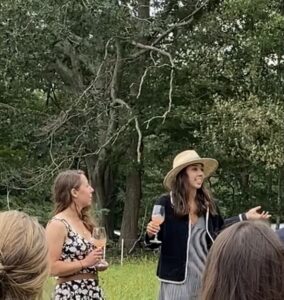 The team then introduced
Ben Coerper
and
Rachael Slattery
, the young couple who started the beautiful polyculture and organic livestock farm 9 years ago. They perched atop vintage berry boxes to give the crowd of about 100 a better view and invited us into their world dedicated to the study of organic farming and education. Six "livestock apprentices" were allowed to be guests on the very farm that they spent all week cleaning in the wake of hurricane Henry in 95 degree heat. The farmers thanked them and introduced Chef Benjamin Sukle of
Birch at Oberlin
appreciated for always supporting local workers. "He's the kind of chef that will call from his kitchen to see what fresh products we have an abundance of and then will design a special dish around that."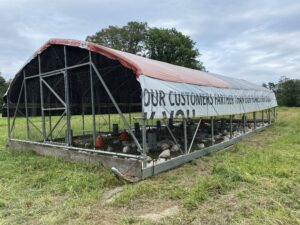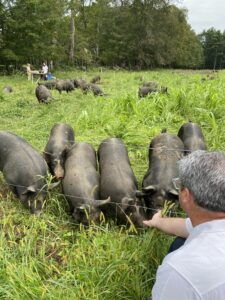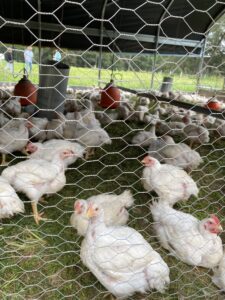 We then toured the farm first meeting the Cornish cross breed chickens in their "chicken schooner". Livestock at Wild Harmony Farm roam on acres of land where the fences move every day – a laborious task for the workers. Farmers practice rotational grazing, which means the animals are constantly provided with highly nutritious food, while the grass is likewise fertilized by the animals. Moving on to the pig pen we learned that pigs area actually very clean and smart animals with poor eyesight (They scattered terrified as the crowd approached). Farmer Rachael showed us where they corral the pigs in ever-changing fenced areas to allow them to eat fresh greens and to forage the ground to a dirt base. "Pigs are the best lawnmowers out there. Much better than goat-scapers ever were.' she joked.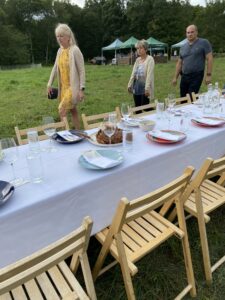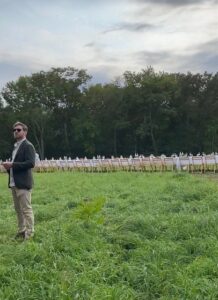 Then after meeting the cows and turkeys (who had recently been tormented by an notorious owl causing them to lose 1/3 of the flock) guests were invited to step through a clearing in the trees to a neighboring open field where a 150 foot long farm table stretched covered in simple white cotton table cloth and adorned with sparkling carafes of water, empty wine glasses and a rainbow of place settings. The simplicity was stunning.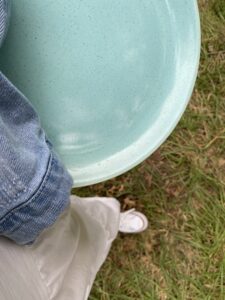 The plates: Outstanding in the Field invites guests to bring their own plates to dine on. Each guest had a story about his or her plate – Grandmas china, family heirloom, a pretty color that reminded them of a special meal. I had packed two robin's egg blue plates that I picked up at an antique shop over 20 years ago. They were the perfect background to the personally printed menu set on top. It was wonderful to see Ben and Rachael, the farm couple along with their staff seated at the middle of the table to enjoy the fruits of their labor with all the guests. It was quite a mixed bag of personalities and it was beautiful.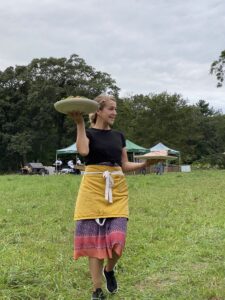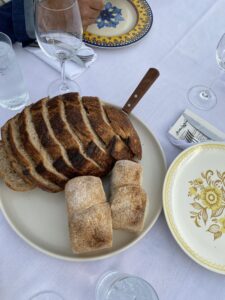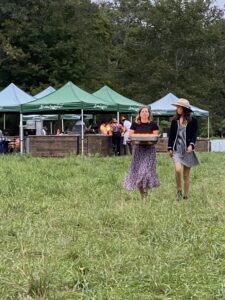 First course, homemade Oberlin's sourdough bread with arbequina olive oil was served in large white platters while guests settled in introducing themselves to their neighbor diners. I couldn't stop turning in my seat to watch the make-shift kitchen tents set about 100 feet behind our table where the beehive of cooks, servers and event coordinators scurried to smoke, plate and expedite the courses to the table. I remember being in that mix so many years ago catering weddings and large events. I knew how it felt to feel so scattered, worn and excited, cheeks flushed with beads of sweat forming around their temples acting "grown up" professionally presenting delights to the extinguished guests. I remember wondering if those fancy people knew how out-of-my-league I felt. Now being on the seated side of the table I smiled to myself somewhat wishing I could be as eager and adventurous as they were and how still-not-grown-up I feel now twice their age.
Second course was served family-style from white ceramic bowls full of brightly green and yello colored grilled & chilled
Ward's Berry Farm
pole beans, almond bagnet vert, smoked Wild Harmony Farm ham, pickled
Steve Ramos
pepperoncini peppers and
Little City Growers
herbs paired with 2018 Failla Sonoma Coast Chardonnay from Sonoma County , CA.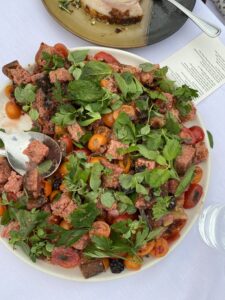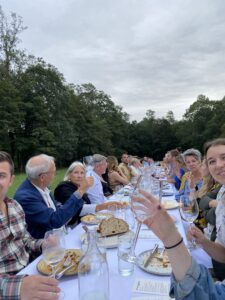 Third course offered
Four Town Farm
butter-roasted carrot puttanesca with Wild Harmony Farm pork 'nduja, fried focaccia,
Narragansett Creamery
stracciatella with
Little City Growers
tomatoes and basil. Servers poured 2020 Matthiasson Rose from Dunningan Hills & Napa Valley, CA. Party guests discussed whether this was a first event for their neighboring diners and suggested future event visits to other-area farms and towns. Many were from the general New England area and just as many travelled from afar for this big event. Everyone had been waiting through 2020 to be able to join the Outstanding in the Field stalled event schedule.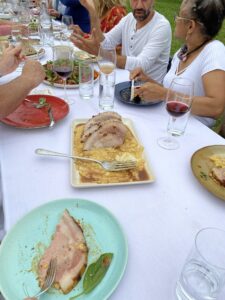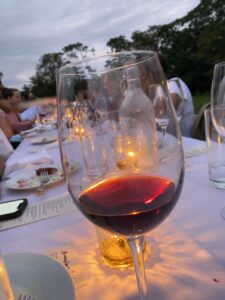 As the sun began to set and air became a little more chilly, Craig was eager to reach the fourth main course (meat) with bbq'd Wild Harmony Farm pork loin, Four Town Farm fresh corn polenta, Little City Growers summer fruit & tomato panzanella. Red 2018 Hirsch San Andreas Fault Estate Pinot Noir was served from Sonoma Coast, CA. The smoked pork was amazingly flavorful and polenta was perfect.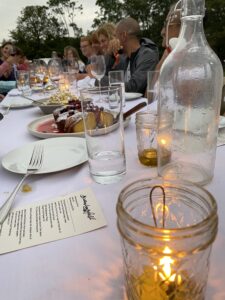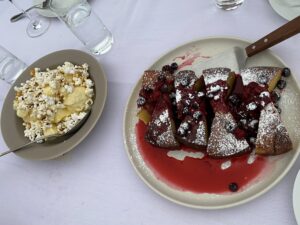 Then with dusk settling in hostesses from the Outstanding in the Field crew ascended like fireflies with glowing trays full of candles. Small mason jars with oil, homemade wicks and flickering tiny flames brought a beautiful glow to the table transforming it into an enchantingly peaceful setting. After carefully placing the glowing lights down the farmtable they then presented the final fifth course of the meal – Mexican-style corn cake with Ward's Berry Farm berries and Four Town Farm corn ice cream &
Wright's Dairy Farm
milk & cream. Oh my! The ice cream tasted like sweet vanilla with sugary kettle corn on top! How has no one thought of pairing that before?! The berries were ripe and fresh.
My only disappointment was that after 3 hours of courses I was too full to finish the entire dessert but I enjoyed it nonetheless.
At the end of the evening the hostesses carried back lanterns from the kitchen tent, now serving as spotlights on the table thanking everyone for coming. A standing ovation thanked the chef and his crew, all exhausted with proud satisfied smiles. Humble glowing luminaries had been set to line the pathway to our cars and we headed back to Providence full and thankful. If you love to travel, to study food and drink and/or appreciate the hardworking farming lifestyle I encourage you to join an Outstanding in the Field event. Check out the event schedule on-line as they wind their way from New England to the Midwest to the South and up to California. Research each farm to find one that specializes in the type of food and lifestyle you're interested in. Consider the location and weather and plan a trip around it. We'd love to next join either a seafood experience at the iconic white farmtable snaking a deserted beach or a cozy farm dinner inside a barn of a cattle ranch enjoying seasoned steak. Have you ever been to an Outstanding in the Field event or anything like it? I'd love to hear where you went and how you liked it. Adding to my bucket list all the time!