At OklaHome we don't just build houses, we build dreams. It'll never get old hearing clients tell us that they've spent years and years dreaming of their new home. They've stayed up late at night scrolling through Pinterest, they've visited our model homes at the Parade of Homes year after year and they've finally found that special piece of land with the amazing view that they've been searching and saving for for years. This will be their forever home. The home they'll raise their kids in, the home that will be an heirloom someday, the home that will honor the past generations that worked so hard to make homes for their families in that spot. It's the most special honor to be chosen to be a part of those stories.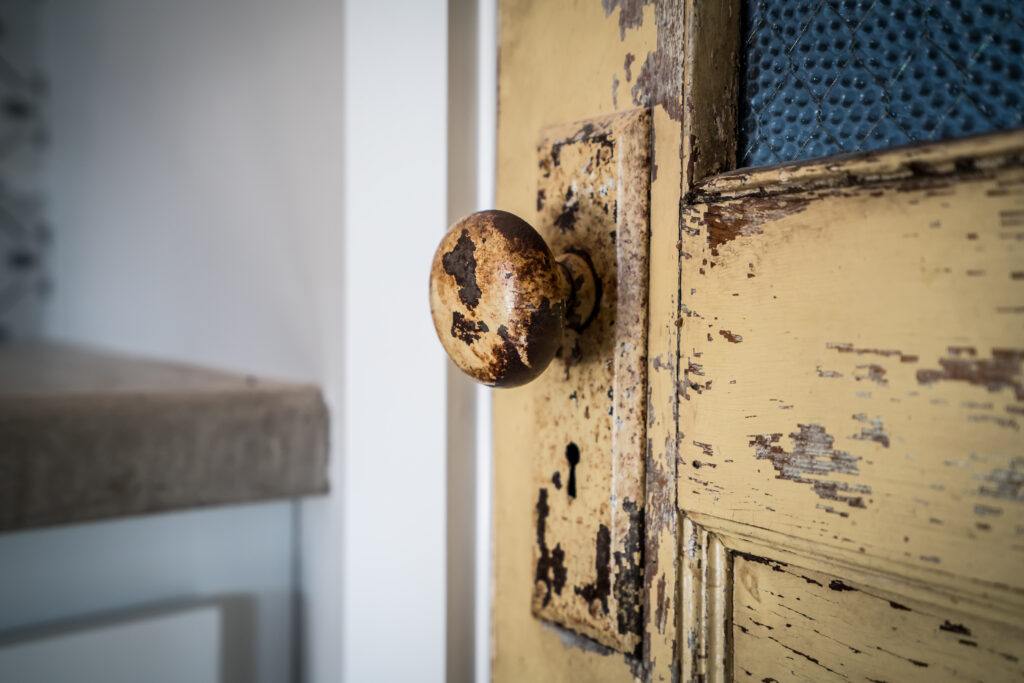 Since no two stories are ever the same, we decided a long time ago that no two OklaHomes would ever been the same. They'd be designed, in-house around the lifestyle and dreams of our clients – each and every one. Some want to garden, some want to live closer to mom and dad, some want to invite the whole family to come stay for long holidays and some want to have a place set up specially to homeschool.
That's why we ask our clients to name their homes. Through the designing process the dream starts to become a physical reality and the home becomes almost like a new member of the family. That home, although in blueprint stage has a personality and a story. Much like naming a wedding, by naming the home we can create a hashtag on social media to mark posts and pictures. It creates a digital scrapbook that friends and family can watch and enjoy the homebuilding process too.
Over the years we've had Fellowship Farmhouse, Mustang Moonshine, Moonstruck, Roosevelt and Steelridge. Right now we have Three Dog Farmhouse, Dream on Summit, Knob Hill Farms and Sugar Creek Haven under construction. Each name was as carefully chosen with lots of thought behind those words. Hearing the story behind the home name is the best.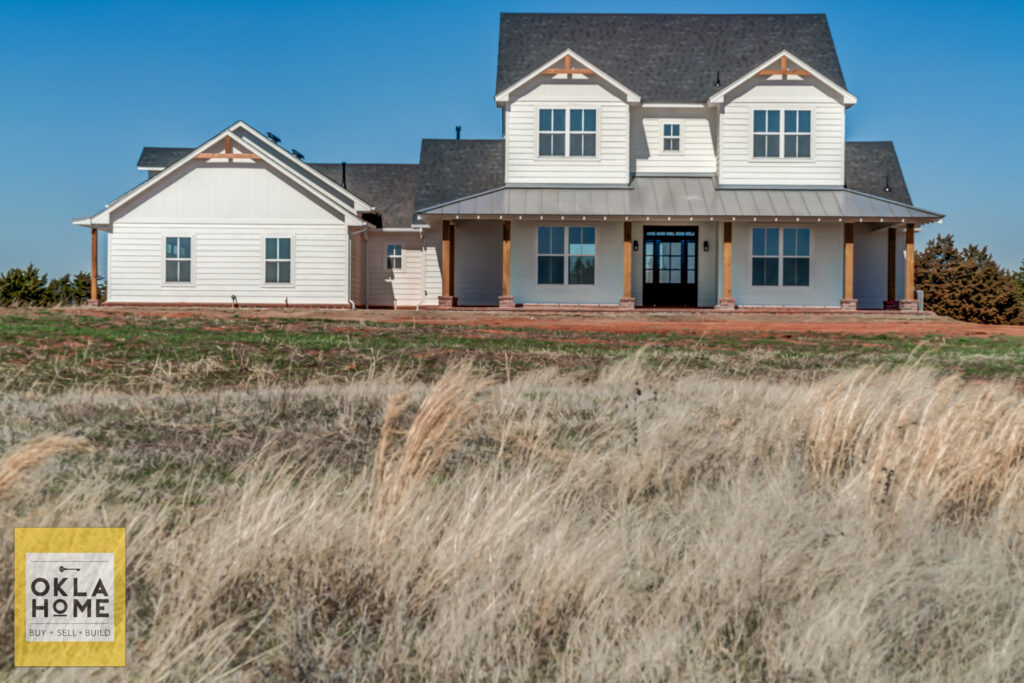 Naming your home can be really hard though. It's like naming a baby and feels so permanent. I usually get a deer-in-the-headlights look when I first ask clients if they've chosen their name yet.
So I thought I'd put together a few helpful ideas to inspire your creativity too.
Name it after history: If walls could talk
If your land has been in the family for years (as many of yours do), do a little research, ask older family members about the people who used to live there. Look up names, occupations and even funny stories that follow the land. Ponca Heirloom is a Colonial home we're remodeling in Ponca City that was built in the 1940s by the homeowner's grandparents. Her father grew up in the house and it was passed it along to her when she got married. It needed a major remodel but could never be replaced.
Name it after natural surroundings
Pull up maps to see what natural features are already on or near the land. Hill Dance is named for Dance Creek that snakes around the hilltop on the land. Knob Hill Farms is literally on a street called Knob Hill Rd, in Perry. Dead End Ranch is well, you can guess….at the dead end of the street in Prague.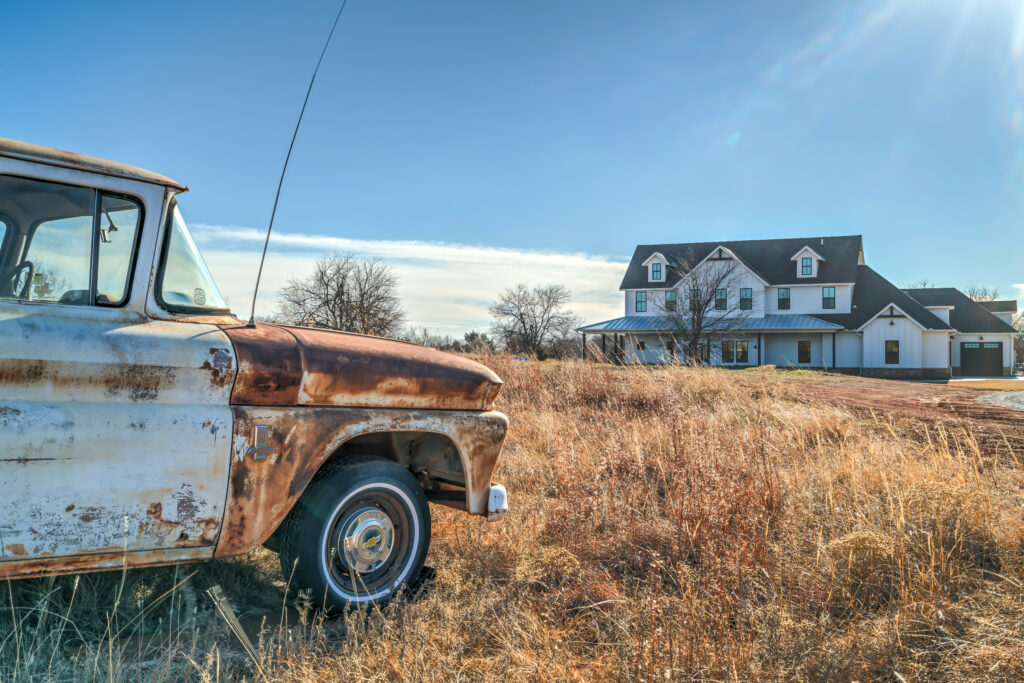 Play on a Name
Roosevelt was named after a couple's daughter, Eleonore. Hyden Homestead, Bowen Barn and Forest Hills all incorporate parts of family names.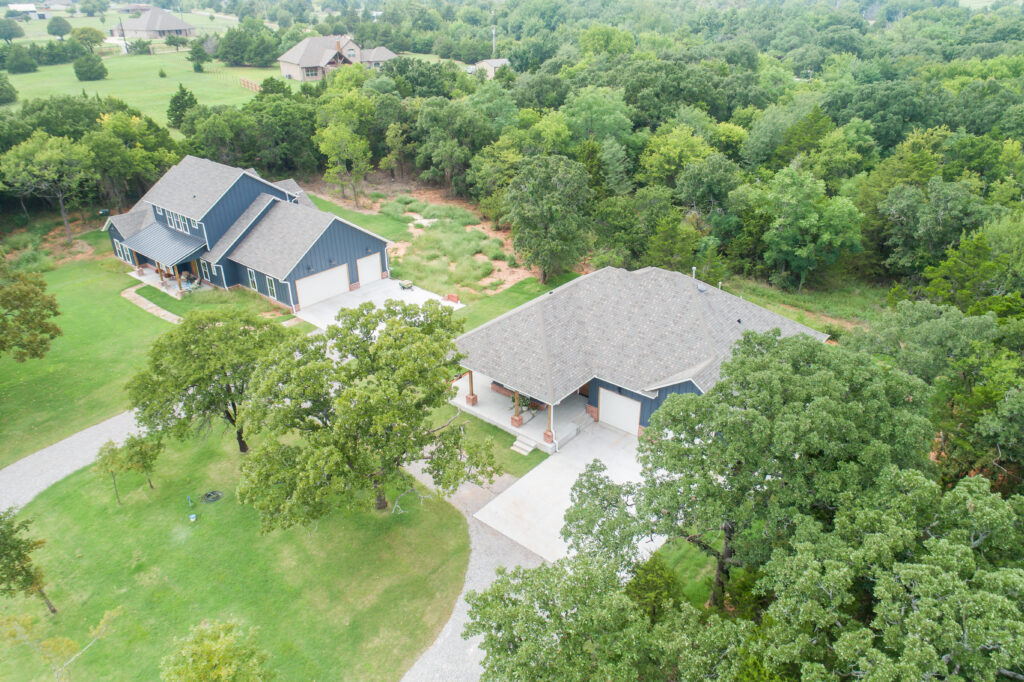 Nicknames or interests
Starbuck's Landing was named after the homeowner's military call sign. Artist Abode was built for an artistic couple who love painting, drawing, designing and creating. Barn Owl Farms was built for two veterinarians who loved animals.
Special features of the home
Play on features of the house. Black and White Modern Farmhouse is a long name but it sure gives a good visual of the style of the home. Steelridge was a Texas Hill Country style home with an expansive 20ftt tall living room/kitchen ceiling that required a crane to bring in a long steel beam for support. Farm Table was built with a large dining space to fit a special farm table that would someday seat family members at holidays. Porch Swing, Fairway Farms, Steepleview and Wide Open Spaces all describe views from the homes they're named for.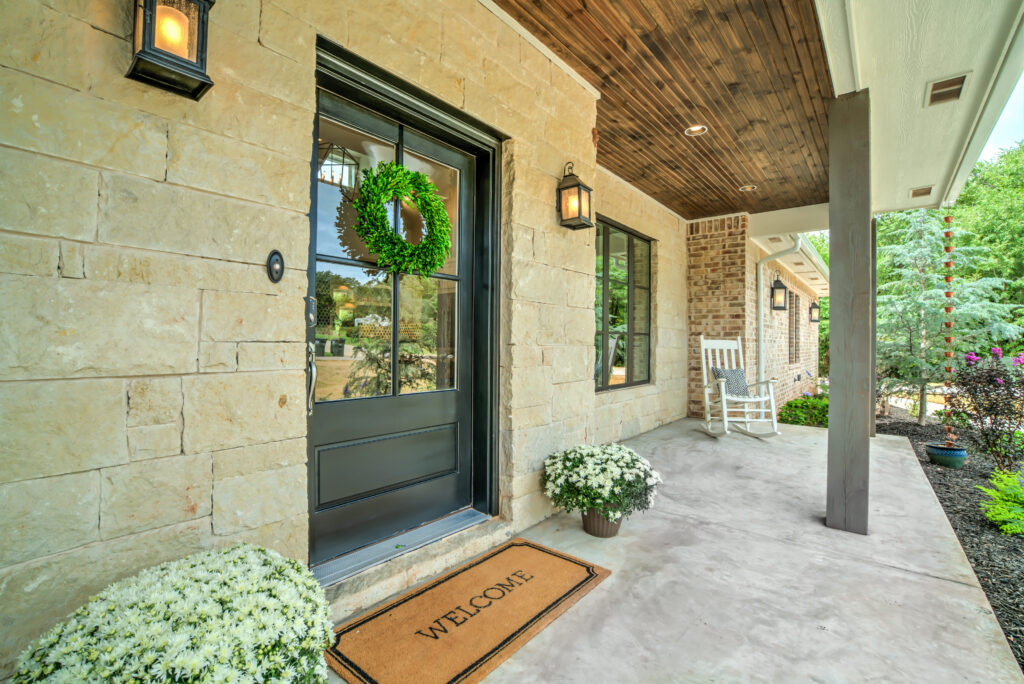 Still having trouble? Two great places to find inspiration may really surprise you.
Vacation cabin rentals
Go to Air BNB or VRBO and search for cabins in Broken Bow, Oklahoma. There you'll find hilarious names such as:
"The Sleeping Porch"
(I had to make myself stop there because it's easy to get lost on a long rabbit-hole looking up Broken Bow cabin names – There are over 1800 of them – all great!)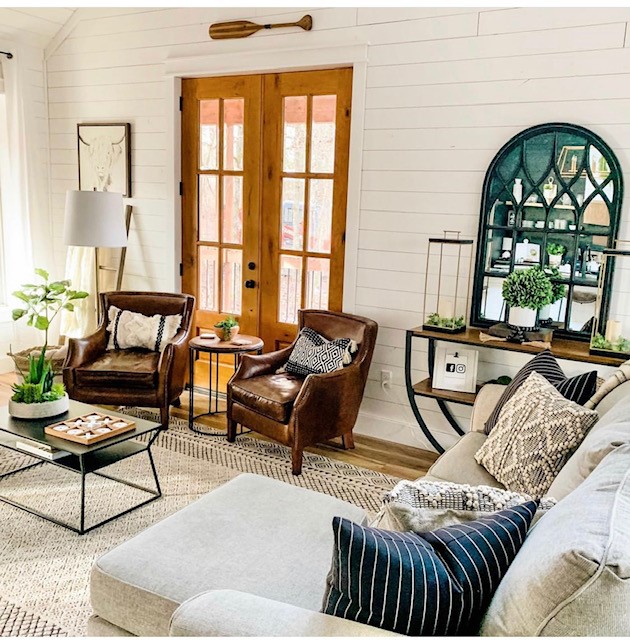 And this one will totally surprise you
Lastly, you'll laugh at this one for sure. Google "Bath and Body Works fragrance names"
I swear the committee who gets to name these lotions and candles must have so much fun at company meetings! They have amazing names like:
Moonlight Path
Golden Sunflower
Endless Weekend
Mad About You
A Thousand Wishes
Magic in the Air
Marshmallow Fireside
Poppies and Picnics
Tis the Season
Twilight Woods
Now don't those names paint a beautiful picture?!
In my next blog I'll talk about choosing a unique name to create a digital scrapbook so stay tuned for that.
What would you name your home or homestead? I'd love to hear your ideas!
For a free working list of my brainstormed (some crazy, some not) home name ideas, comment or click here to enter your email address and I'll shoot it over your way.