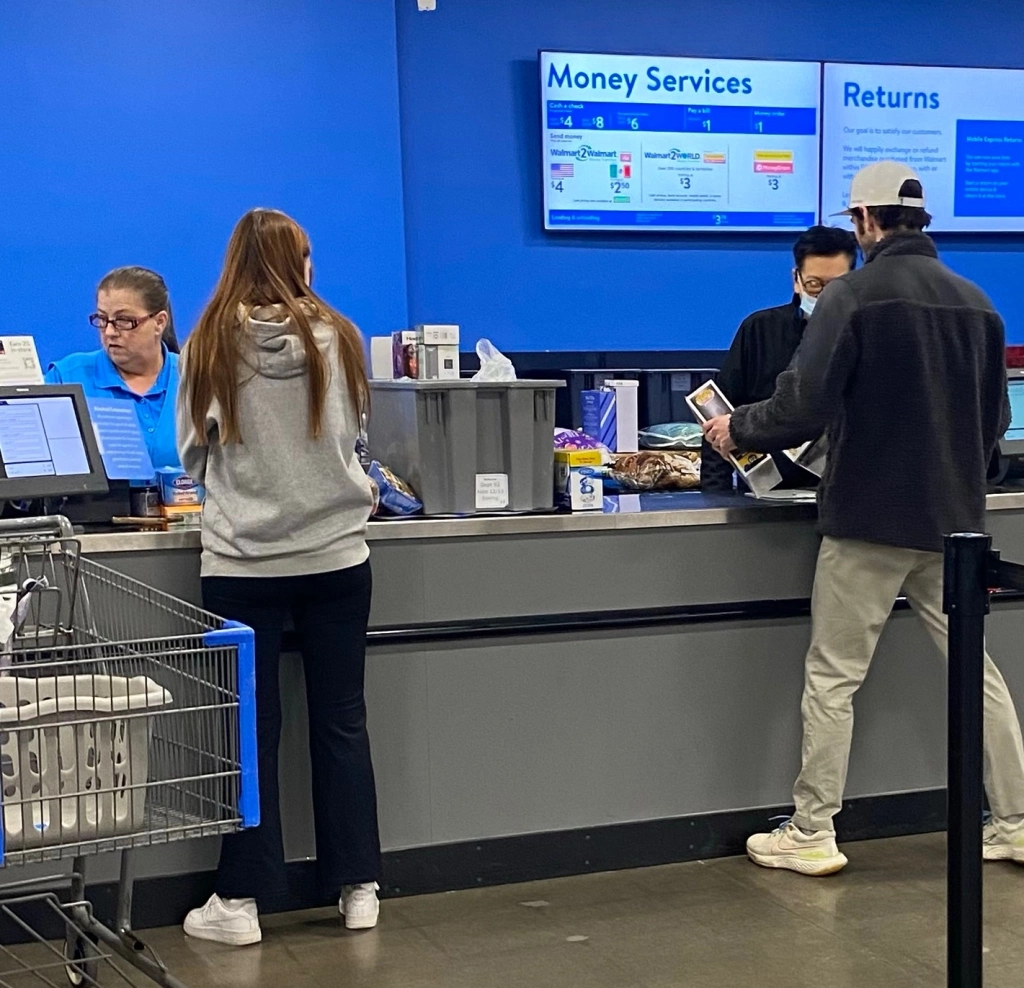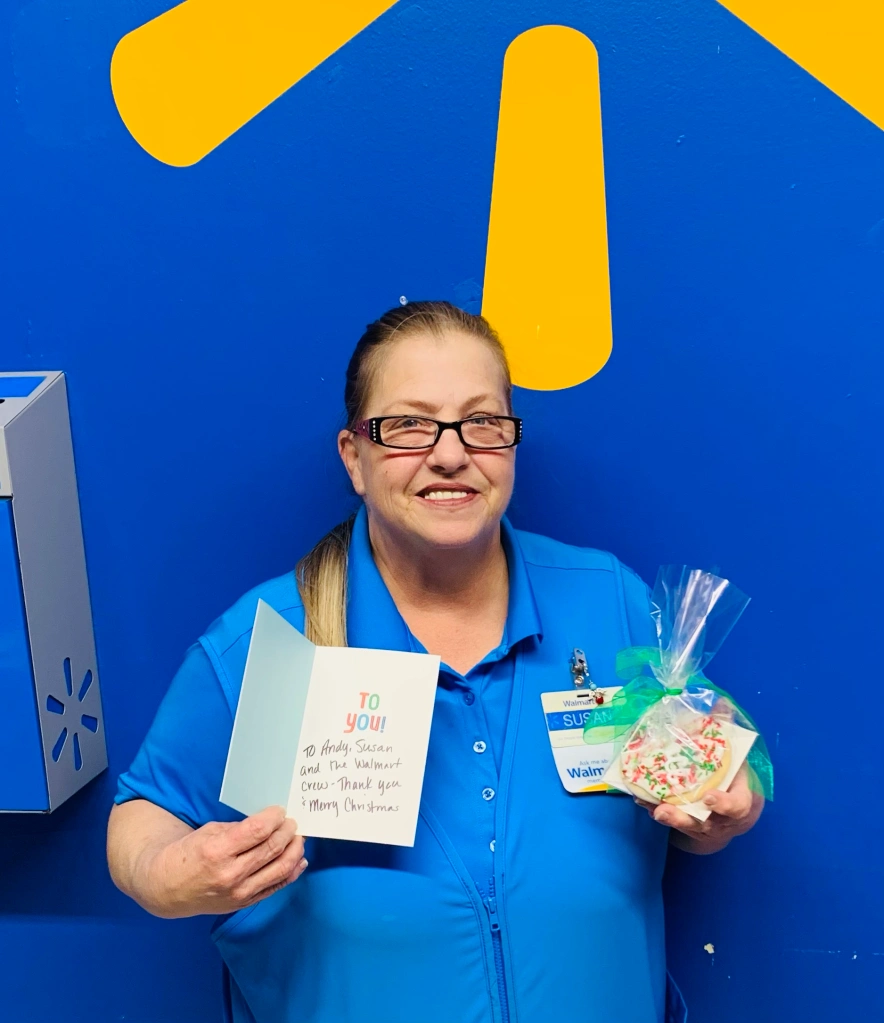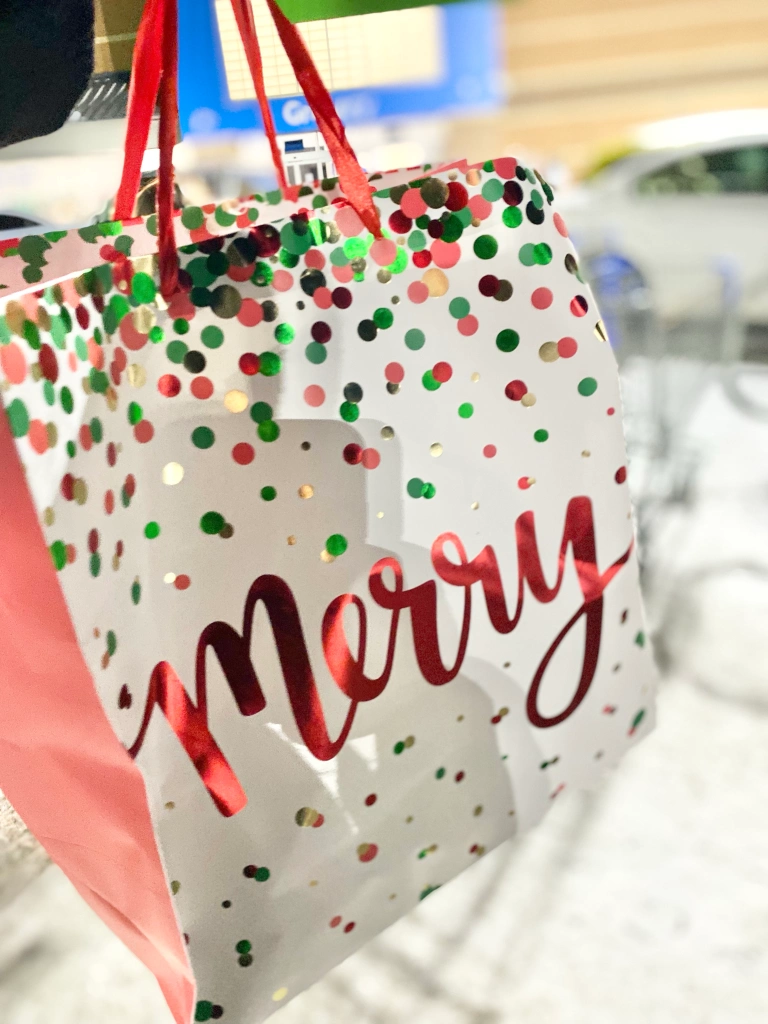 You know what job I think would be one of the hardest at Christmastime? The return department at Walmart. That's what. Standing on your feet all day, long lines of always-grumpy people.
That's why last night's experience at Walmart Edmond – W Danforth Rd_IG at Santa Fe & DANFORTH really shook me.
I was in a grumpy mood too. 8pm, hungry, 35 degrees outside, on my final of like 100 errands…I was having a pity party.
But you know who wasn't? ANDY & SUSAN working there in the return department. Susan was humming Christmas songs & reassuring the girl in front of me (with a very long return) that she was no bother at all. She was actually happy.
Andy helped me with my return. His tag said he'd been with the company for 5 years. I could tell he was the manager because every 5 seconds he had a worker ask him for help. He was limping & obviously in physical pain. Wincing I honestly thought he was going to pass out for a minute. But he kept on smiling & got back to my return – actually cheerful with a service attitude. He went the extra mile to help me with the app when my return ended up being a complicated on-line order. He was patient and kind.
The people who were not patient & kind (including me) were the ones in line. Many complaining loud enough for Susan & Andy to hear. Demanding that Walmart gets more "help up here". Ugly attitudes.
I was humbled and ashamed of the way I had RBF all afternoon. We all know that every company is short on staff right now. Every supply chain is on back order. All the good employees are therefore overwhelmed.
I didn't have anything to give Andy & Susan. They were too busy to take anything anyway but I plan to go back & bring my daughter to give them some small thank-you gift so that she can see the good things they're doing too. I hope Walmart will pass this message on to Andy & Susan and I hope they know how important they are. If you happen to see them there too please tell them I said thank you and Merry Christmas to them too.
Awesome story update a few days later….
Really cool update on the story. One of the Walmart store managers who saw this post Tony Driscoll reached out & put me in touch with Andy & Susan's store manager. I wanted to find out what was or wasn't allowable to gift them with. Then a good friend Deborah Stephens who also saw my post & makes amazing cookies made a huge batch, individually wrapped each one and I got to give them to the whole Walmart crew in honor of Andy & Susan. The store manager sent me this picture of Susan. Thanks everyone for your ideas!