Taking the Baths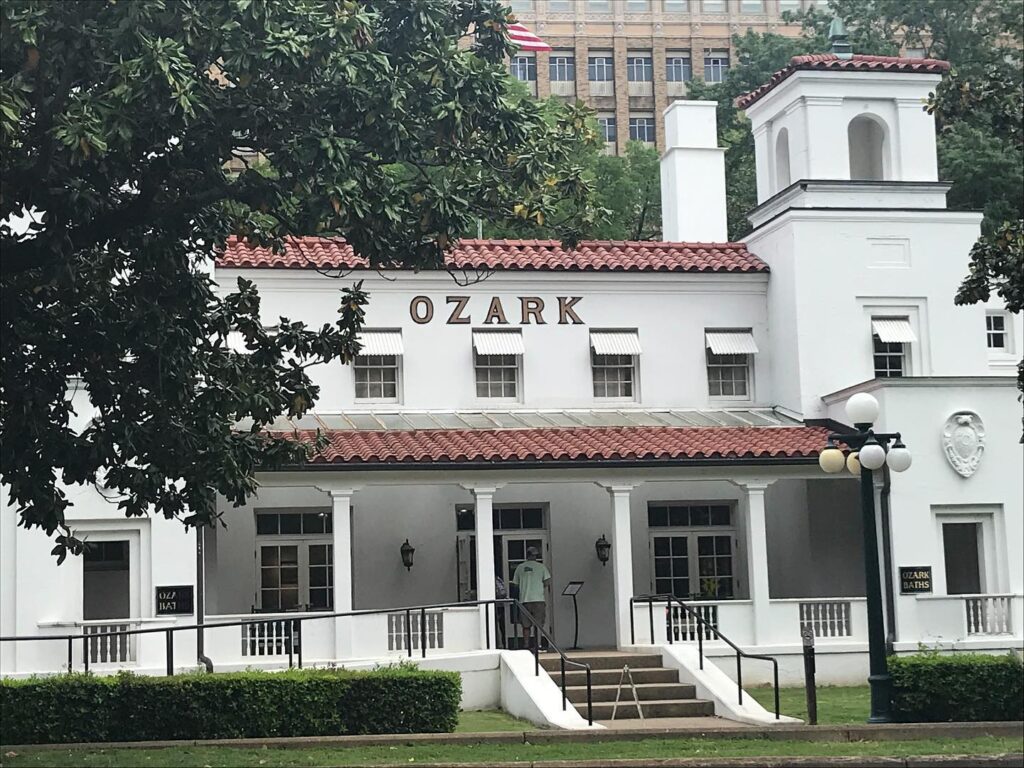 T
Romantic weekend or family fun with something for everyone – Hot Springs AR is known as "Spa City" for the historic Victorian public bath houses built from the 1880s up to the1920's. Since the Native Americans started visiting for the peaceful, healing waters visitors have flocked to the city for multiple homeopathic benefits of the underground natural hot springs. The bathhouses such as the Quapaw, Fordyce, and Buckstaff tapped into the natural hot springs and over the centuries have offered relaxing baths, steam treatments and other interesting methods for people with ailments to heal with the rejuvenating minerals in the water. Bath house row down Central Ave in Hot Springs is an easily stroll-able famous attraction in Hot Springs. You'll love adoring these architectural staples whether you're into spa treatments or not. Each historic spa-service bathhouse has its own unique personality, pro and con. I'll list the most popular bathhouses to visit as well as my favorite recommendation for "taking the baths". Be sure to also visit my other blogs:
Hot Springs: Where to stay
Hot Springs: Where to eat
Hot Springs: What to do
And in each blog always look for SECRET TIPS from a long-time Hot Springs lover.
SECRET TIP: Hot springs can naturally heat up to 143 degrees. It's carbon-14 dated at 4,000 years old and is high in silica, calcium, magnesium, free carbon dioxide, bicarbonate, and sulfate. Don't plan on visiting them if you're sick or pregnant.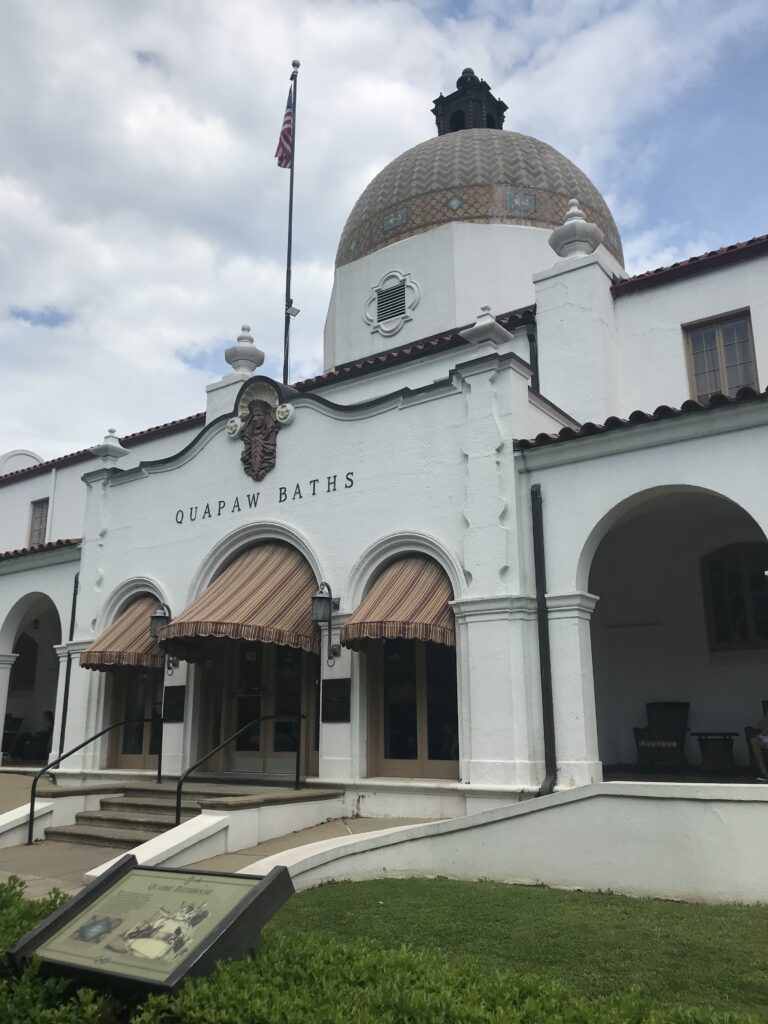 Quapaw – The most recently renovated bath house is open to the public and has more of the modern spa feel you're used to. You can walk right in and enjoy a Turkey wrap and Blueberry Pomegranate smoothie at the café. Then soak in the co-ed pool (swimsuits required) and/or visit the gender specific spa areas. Private bath-house rooms have the corner type Whirlpool tubs you're used to seeing in 1990s or 2000s residential homes so in my experience, not worth the money. Plus to my knowledge the water isn't naturally heated from natural hot springs like it is in other bathhouses. Private massage rooms are nice and clean – just basic to me. The facility is new and clean but in my opinion just like any spa you can visit at home.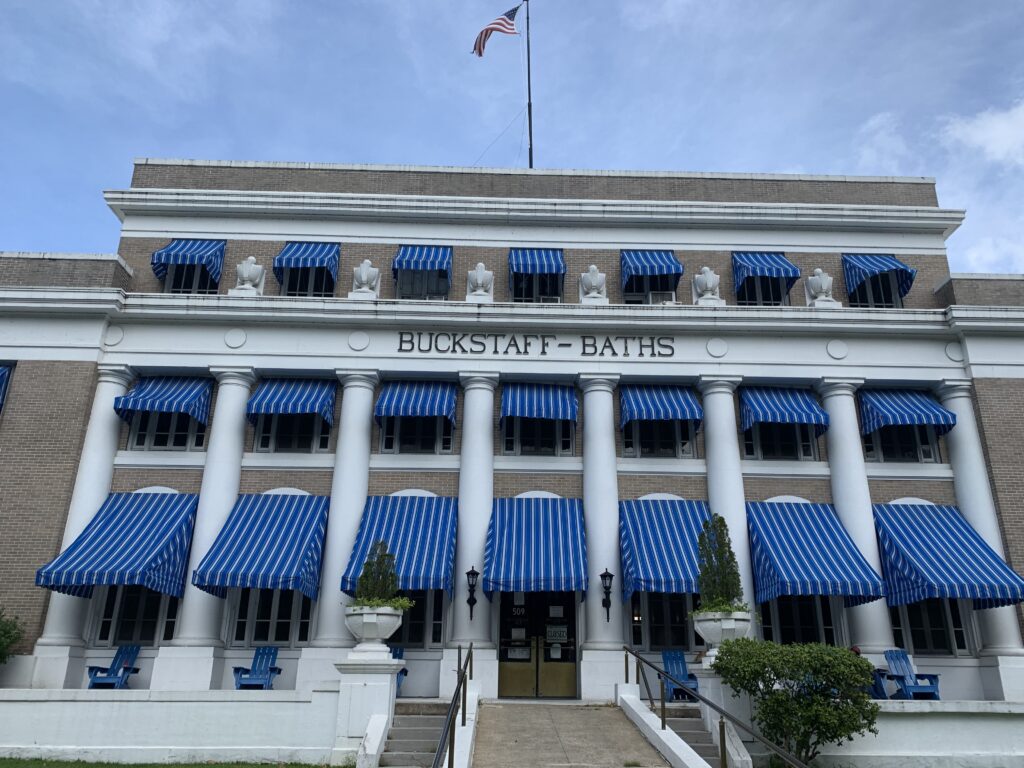 If history is more your vibe you'll be pointed to The Buckstaff by locals. Also a public bathhouse facing bath house row, the Buckstaff has been preserved in its original style. Again, his and her sides invite you into a large open room with white cot-style loungers lined up. Get ready – it feels like an old war hospital room with guests wrapped in towels lined up on the small beds. Private rooms surrounding each have historic cast iron tubs where guests will take their baths before lounging. My only complaint about the Buckstaff is that it's too public. Being the most know and prominent bathhouse they have a lot of walk-in traffic. You'll wait in line and might feel herded through your treatment process. It feels too much like a public park facilities to me.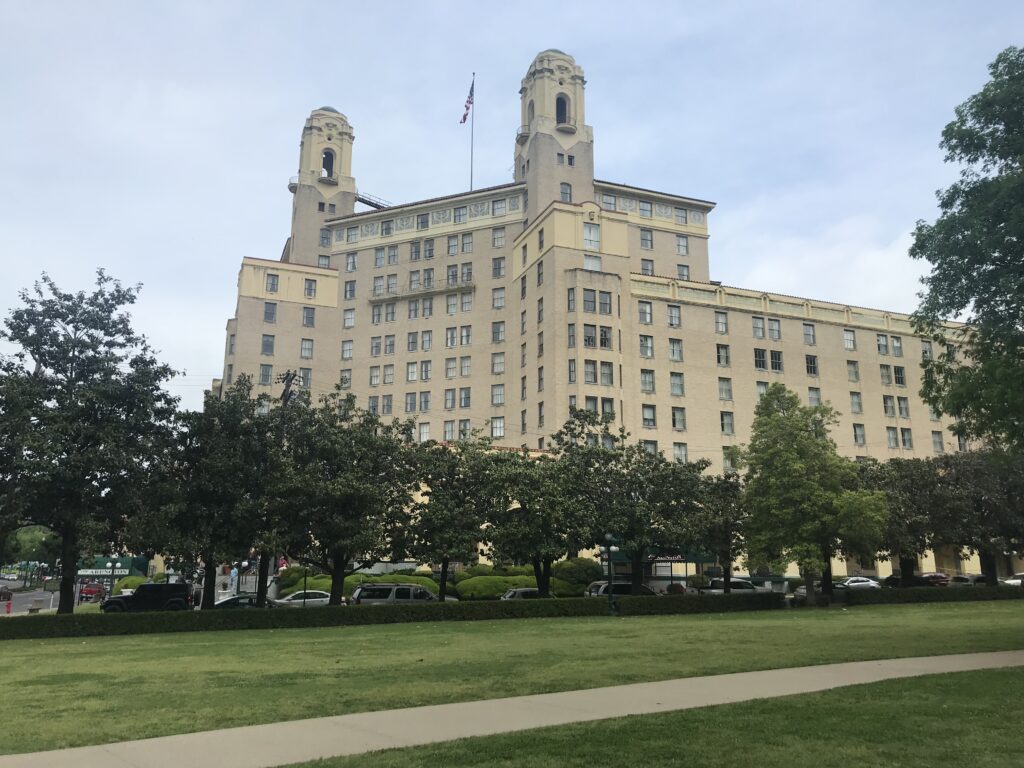 The Arlington hotel has a less-well-know bathhouse hidden inside the hotel on the 6th floor.  Although open to the public, the majority of visitors are staying in the hotel and reservations must be made ahead of time. The Arlington Bathhouse has a modest website that's more of a brochure than site.  It too feels like a war-era medical space but less crowded and more welcoming. Most of the bath attendants there have all worked there for decades and Kizzy, the front desk manager is a gem. She remembers us every time we call to book an appt.  It can be felt that his is their home.  Even though I'm sure they don't get paid as much as they would at the other places, they all love the Arlington and work to make it better from their good hearts.  You'll want to book The Works with Massage package there.  For $120 (a steal of a deal. You're first lead to your private bath by your attendant who will tell you her name and ask you where you're visiting from – room with the same cast iron tubs that the Buckstaff has but again, more private and less crowded. The mineral water is naturally pumped from local hot springs. Be ready to see decades of heavy mineral deposits and wear and tear on the tubs.  They were obviously installed before a whirlpool tub existed so they've all been equipped with an add-on agitator with a long arm dipped into your bath water blowing on your legs to give the whirlpool feel.  A bath attendant (who will feel more like a caring momma-type nurse) helps you out of your towel wrap and into the tall caste iron tub.  She'll close the curtain and leave you to soak peacefully for 20 minutes.  Phones are not allowed in the bath house area so those 20 minutes when no one can reach you are simple bliss.  After your time, your bath attendant will step back in and bath you.  Ok ok I know you just thought "Hold up!  This just got weird!" right then.  As long as you know this part is coming, I promise it isn't creepy.  She'll have a loofah and will ask you to first raise up your right leg, then left, then right arm then left and then she'll tell you to lean forward while she scrubs your back. No front scrubbing. It's quick and if you want to skip that part you totally can.  After the bath, she helps you up out of the bath, wraps a towel around you and escorts you to the sauna room.  More like a typical cedar wood sauna with bench seats, this area is more normal.  You'll sweat in there for a few minutes until you need to step out before you get too overheated. 
Next your attendant will call you over to the communal center of the room where simple cots are lined up in a row. You'll lay down on the cot, she'll come wrap your whole body like a mummy in a sheet and will bring an icy towel to cover your face. Everyone lays there in silence and usually drifts to sleep. It's so relaxing! Lastly your attendant will walk you to a private shower. She'll take your towel and let you step inside to rinse off. This part is still very private and modest too. The pipes are original. They're calcified and therefore don't all spray the same amount or pressure – just go with it. It's antique.
If you booked a massage add-on to your bath (you should) then you'll be shown upstairs to the private massage rooms. They only offer a 20 min service and don't ask for any special type of massage. Again the masseuses have mostly been there for 10-20 years and work in their standard 20 min full body pattern. Even though I always wish I could book a longer massage and I wish they could focus more on my neck and shoulders, I always step away feeling like jello. All of the relaxing heated treatment beforehand prepare your muscles to give in to the massage. After your bath house experience you'll want to go back to your room and take a nap and all of the cares of the world will be washed and massaged away.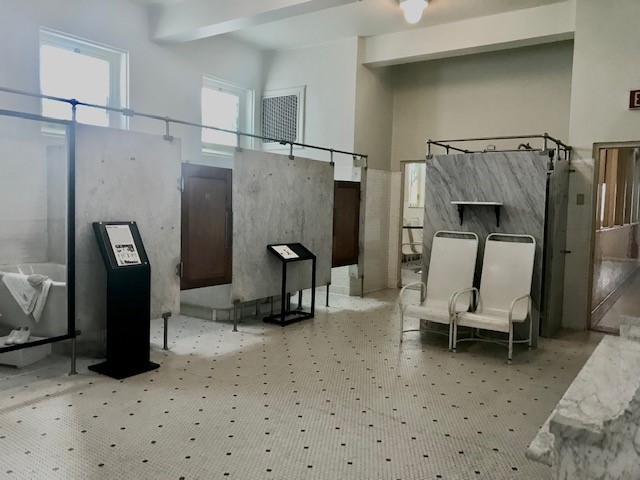 Visiting the baths is a great activity for a girls' trip or bridal wedding party trip. It's a fun experience to have together and I promise everything is kept very modest.
Admittedly it's not for everyone and you definitely need to be warned about the vintage-ness beforehand. I took two of my best friends there a few years ago and they didn't love it. They prefer chic city spa days with cucumber water, fireplaces and lavender face masks. I do to, but at least they gave it a try.
If taking a Hot Springs "bath" isn't your (or your spouses and/or kids') thing, no worries. There are so many other fun things to do I couldn't list them all here so look for my next blog where I talk about places to eat, drink and laugh.