April 23, 2021
Our daughter had a horse show competition in Tennessee over the weekend so we decided to fly down early to take in a fun day in Nashville. We'd never visited "Music City" before and wanted to get in as much as we could in one short day – a little culture a little cuisine and of course some honky tonk! With 2 kids (our 9 year old daughter + a friend) I searched for fun things to do in Nashville with tweens.
My husband, Craig is a private pilot so we found a private airport near Murfreesboro where we stayed. The airport was very clean and nice. Murfreesboro is about 40 mins from Nashville and in hindsight we should have either stayed in the big city or in Franklin. Murfreesboro didn't seem as nice overall so we had lunch at Garcia's Mexican Restaurant in Franklin. The shrimp tacos were to die for!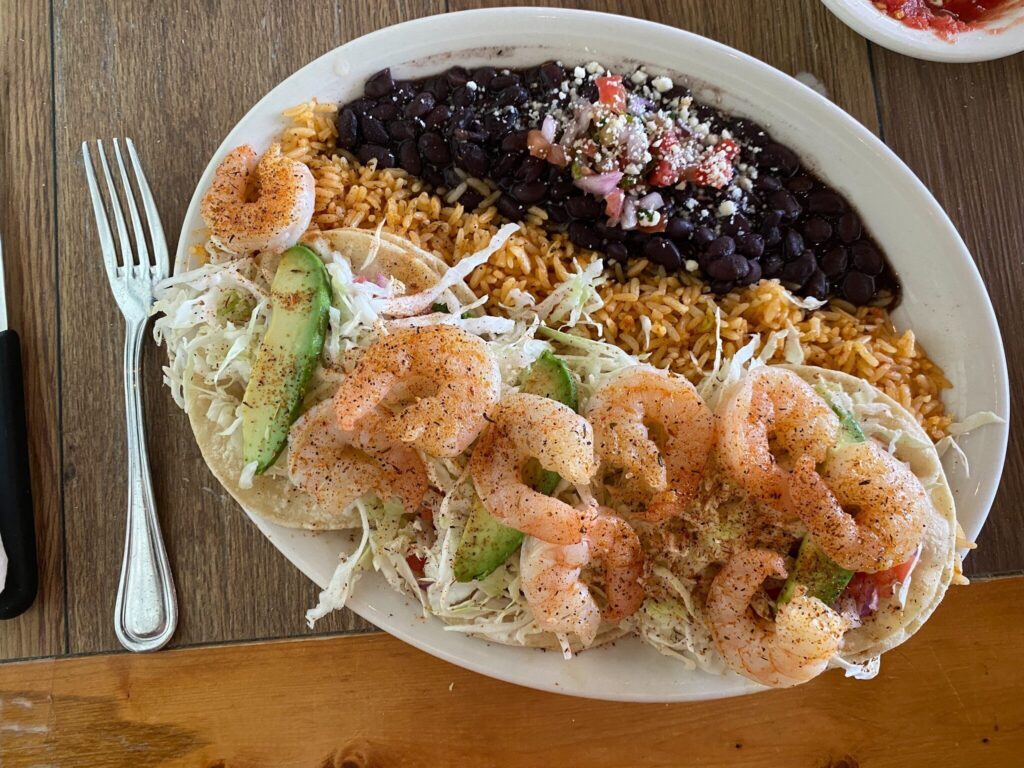 Toy store find
Before we headed to mark off our quick bucket list in Nashville, the girls asked to go to Learning Express for a "toy haul". It's amazing that kids can research fun places to explore anywhere in the world on TikTok nowadays and I was proud of them for doing so, so to Learning Express we went! What a fun little shop! Along with retro flash-backs from my own 1980s childhood like a Strawberry Shortcake doll and Lite-Brite, they offered all kinds of science kits, board games, sleepover crafting projects and even a cool "Girl Talk Locker" set that 9 year old me would have totally gushed over. Our girls chose fidget spinners, simple dimples and wacky tracks. It felt good to encourage their non-screen time that I spent a small fortune and didn't regret it one bit to be able to support a small locally-owned shop.
Downtown Nashville: Broadway Street
Next we drove into Nashville heading to lower Broadway Street (aka "Honky Tonk Highway") since so many popular blogs suggested fun hang-outs there that were kid friendly – before dark. It was fun to see all the lights, marquees and shops full of blingy country boots and edgy T-shirts celebrating famous musicians like Johnny Cash, Elvis and Willie Nelson who all started their singing careers in Nashville. Our family started a fun tradition last year of picking up one special magnet from any of the places we visited and I'm so glad we did. Each time we put a lot of thought into the magnet we select. It has to represent the personality of the town and preferably the one favorite thing we did, learned or experienced there. Autumn picked a magnet with the word "Cowgirl" written in metal. That seemed to fit since we were there for her horse show and since Nashville has such a rich history of country musical talent.
The part that's not for kids
Now apparently "Nash-Vegas" is becoming the city of bachelorette parties because the streets were full of all kinds of loud party-rides from "bar on a bike" to "tractor bar crawls" to "party barges" with rowdy girl gangs in matching tanks, feather boas and cowgirl hats dancing on board even in the middle of the day. I'll admit my mom-radar nervously checked to see what gyrating body parts my 9-year old daughter's eyes were seeing a little too much of for my comfort level. Broadway Street was certainly a good place to start our day in Nashville but similar to Bourbon Street in New Orleans, I knew it would get too loud and sloppy after dark for our crew.
Nashville: Cliff's Notes Version
Craig and I love learning about the history of any of the towns we visit so we hopped on the Old Town Trolley Tours for a 1.5 hour fully narrated tour around the city (about $41 per adult and $21 per kid). It was fun to learn about the history behind Broadway St and also to see the Country Music Hall of Fame, Parthenon and even saber-tooth tigers (yep!). A half-time intermission gave us a 20 minute break to stretch our legs at and the driver gave the girls the challenge of rolling down the steep grass hill at Bicentennial State Park (which they loved). On the way back to the station we passed by Vanderbilt and Belmont Universities and so many historic concert halls and recording studios with a rap sheet of musical big breaks longer than the CMA guest list. What would normally have looked like humble residential streets were actually current and past recording studios for artists like Dolly Parton, Tammy Wynette and even Megan Trainer who sang "All about that bass" and has been part of the new non-country movement Nashville has been heading towards in the last 10-15 years. The open-air tour was a great cliffs-notes version of the city. They offer an interactive map of the city here. I figured there would be more "on and off-ing" and the girls were a little bored for the last 30 mins but Craig could have soaked up more history for another hour.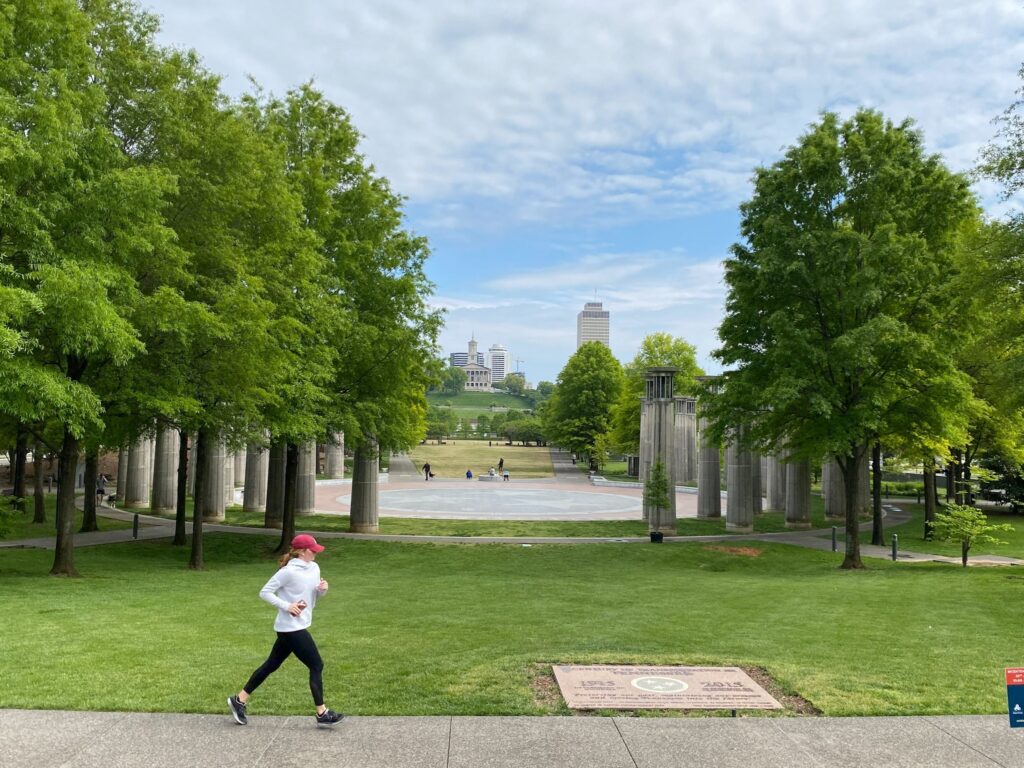 Our Hole-in-the-wall find
After the bus tour we circled back to the old red-bricked Marathon Automobile car factory (dated from the 1900s) a few blocks from Broadway that houses "Antique Archaeology" shop made famous by the History Channel's American Pickers. (Find out what happened to Frank on the show here) It was like a cross between a grease monkey museum and hip souvenir shop with quality leather stamped key chains, T-shirts, mugs and housewares. Craig loved ogling over the vintage motorcycles, gas station tanks and children's circus toys, many of which were spotlighted on the show.
Our favorite place
Since the girls are so horse crazy, one of our favorite stops was Wildhorse Saloon back on Broadway. Reading that the bar was family friendly during the day drew us to eat earlier than usual around 6:30 and I'm so glad we did. The place is part restaurant, part bar, part music concert hall and part dancefloor – all in one open room set up theatre-style. The place was hoppin and we heard "Left, left, right, right, right" booming from the stage as we were seated. The dancefloor was full of all ages of guests – grandparents to kids – all learning the country line dance following the instructions of the emcee girl from the stage. The place is very large – set up with 3 levels of tables set up in concert-type horseshoe shape all facing the stage. A lively country band came out on stage and gave a great show with country cover songs and everyone was enthralled from their tables. I had the famous hot chicken sandwich topped with coleslaw and the others had burgers with large crinkle cut fries. The girls had so much fun dancing in their seats from the booth. A long line of about 30 people had formed at the front door ready for the "after dark" party to start. I'd recommend timing your arrival around the dance lessons that seem to be on every hour and last for about 15 mins.
Cookies as big as my head? Yes please!
On the walk back to our car we passed by Mattheessen's Ice Cream Shop – or should I say the freshly baked cookie fragrance lured us in from the sidewalk before we even saw the yummy treats displayed in the window. Chocolate chip, sugar sprinkle and M&M cookies that were (I'm not even kidding here) larger than my head simply could not be ignored. The girls bounded inside, ordered giant blue ice cream scoops in freshly made waffle cones and Craig and I chose a chocolate brownie as big as a brick to share. The guy behind the bar popped it in the oven to heat it up for us and added 2 scoops of vanilla ice cream on top. Large glasses of "milk of course" were added and the 4 of us headed upstairs to the small seating area to enjoy our treats until we were stuffed, tired and happy.
Why Nashville is called Music City
Heading the rest of the way back to the car down Broadway Street, Craig and I vowed to come back sometime, just the two of us – or maybe with a group of friends. We could spend several days combing through civil war plantation museums and enjoy all the live music streaming from open windows onto the streets at bar after bar after bar. It's true that music can be heard throughout the streets at all times of the day in Nashville. We had our eyes peeled for stars like Miranda Lambert (she is the first female country music star opening up a new place called Casa Rosa), Carrie Underwood (a small-town Oklahoma girl who made it bit) and Luke Bryan but honestly the troubadours we heard serenading from the streets and on al fresco patios playing for the general crowds were so talented we rooted for them to eventually realize their dreams performing on stage someday too.
What we'd do differently
Overall 1 day in Nashville was not enough but we still had a good taste of the food, music and artistic family-friendly culture there. We'll be back soon with an adults-only trip and time to take it all in next time. My biggest regret was not planning ahead of time to visit the Grand Ole Opry with the backstage tour. Every blog I read ahead of time lists it as the #1 stop but by the time we were in town the shows were all sold out for the week. Book your seats before you go. We'd love to hear your suggestions on other places we should visit in Nashville so please drop us a note below!