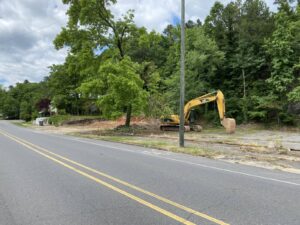 Craig and I have had a joint dream spinning around in our heads for over 10 years now. Hot Springs, AR has been our special place for our entire relationship. We escape there for a quick weekend vaca any time we get the chance. We renewed our 5 year anniversary vows there and the minute we land at the airport there we automatically feel like we're home. Not home like we'd want to live there everyday but home-away-from-home. Hot Springs to us means slowing down, spending quality time together and having our own individual hobbies there too. It's a place where our brains aren't constantly on work. It takes getting out of town for that to happen.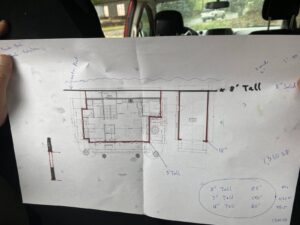 As we've been vacationing in Hot Springs for years (13 for me, more like 16 for Craig) we've gotten to know some of the locals. Around 2015 we started asking around to try to find a small available lot. We met with a few Realtors and drove around the different areas like Hot Springs Village, Lake Hamilton and up Mount Ouachita. One day about 3 years ago though Craig found a jewel on Craigslist. A tiny lot, at the end of historic Bathhouse Row and within walking distance to my favorite coffee shop The Kollective, Fat Bottomed Girls Cupcakes and his favorite hole-in-the-wall (but award winning!) breakfast spot, The Colonial. Once the site for a tiny yellow house built in the 1920s, it sits next door to an empty lot where the historic 1892 Majestic Hotel stood abandoned for 4 years. The more-than Century-old landmark hotel tragically burned due to arson in 2014 and now the city owns the lot. Rumors of a future concert venue, spa hotel and water park have been floating around for awhile now. He bought the lot for $20,000 and we've since been offered a lot more. The lot has a steep incline from the front to the back, and by incline I mean a 10+ foot cliff. The home we build there will certainly have to be custom designed with the front door on the first floor and the back door on the second! So for the last 5 years we've just sat on the lot, not having time or energy to tackle it yet. Hopefully that will change soon.Our plan is to build a little vacation cottage there mainly so we can hop over to Hot Springs at the spur of the moment and pack nothing at all. It'll be white farmhouse style with a huge front porch and black trimmed windows. We'll also use it for an Air B&B and I'm excited to research and learn all about that business!One main reason I'm eager to get started is because Hot Springs National Park will be one of the "path of totality" towns in the next total solar eclipse. That won't happen again until April 8th, 2024 (you can follow the event here) but last time it did on August 21, 2017 (Great American Eclipse) all of the towns on the path of totality were packed with record numbers of tourists. Hotel rooms are already booking out for that date years on the future now and the event has already been compared to "20 Woodstock festivals occurring simultaneously across the nation". I'd love to be settled in and up-and-running by that time.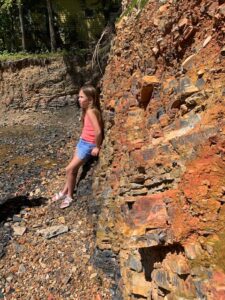 Right now I'm thinking about naming the cottage "The Sleeping Porch". Plans are to build a screened-in porch off the upstairs space. The porch will have a swinging bed and views of downtown Hot Springs. I'll get to live out the good parts of my pre-teen favorite movie "Man in the Moon" staring Reese Witherspoon as a tomboy about 13 years old. I'm more excited about this room than any other part of the house but don't worry, Craig has been meticulously designing everything else for about 2 years now (we're our own worst clients). More updates on #TheSleepingPorch as we go along including legit Men in Black showing up, discovery of buried basements and I'm sure many more adventures along the way. Until then, start planning your future stay soon!